Order Information for Foodservice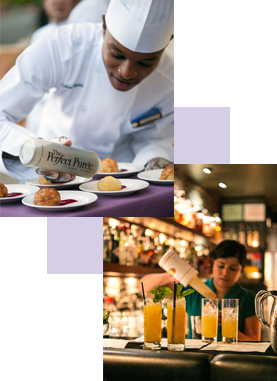 We have a network of foodservice distributors throughout the United States, Canada and Mexico who can supply you with these "must have" kitchen and bar staples!
Request a Distributor List
If you are a foodservice professional or manufacturer, you may request a list of distributors in your area.
Request a Distributor List
How to Contact The Perfect Purée
Complimentary Samples
Complimentary samples are available for foodservice professionals. To request samples, visit the Sample Request Form.
Product Certifications
About The Perfect Purée
The Perfect Purée of Napa Valley's line of delicious premium frozen purees, concentrates, zests and blends are made from the finest field-ripened fruits. The Perfect Purée is the ideal ingredient for healthy beverages and cocktails, ice creams and sorbets, cakes and custards, sauces, marinades, and more. Our flavors offer chefs, pastry chefs, and mixologists unparalleled quality, flavor, and consistency!