The Products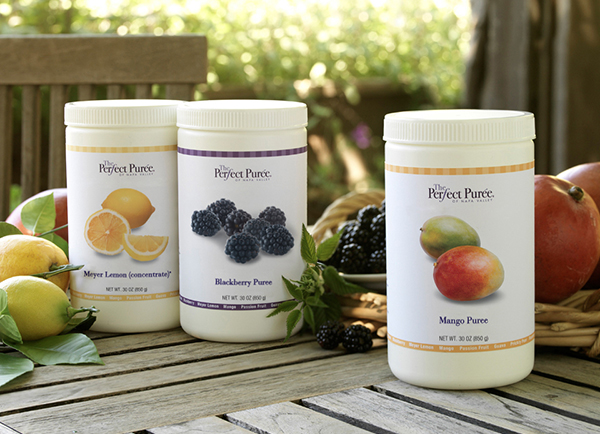 Seeking to infuse your culinary or beverage creations with ultimate fresh fruit flavor? No need to peel, dice, puree, and simmer for those just-right recipe results. Simply stock your kitchen or bar with The Perfect Purée of Napa Valley's purees, concentrates, zests, and blends. Discover why they're revered in restaurant, bakery, hotel, catering kitchens, and bars for their amazing taste and ideal consistency.
Pureed fruits and vegetables have long been produced by hand by classically trained chefs as a staple kitchen ingredient. When European prepared purees were first introduced in America's professional kitchens in the late 1970's, chefs readily integrated them into their cooking. Chefs constantly seek innovative ways to keep costs low while still offering top quality. Most professional kitchens and bars simply cannot afford the added time and cost associated with hand-prepared purees. Often produce prices, availability and quality fluctuations hinder restaurants from providing a complete array of handmade purees year-round.
Today, California-based The Perfect Purée of Napa Valley is the premium puree product on the market. It is the preferred staple ingredient of chefs, pastry chefs and mixologists for its outstanding attributes.
Perhaps The Perfect Purée's incredible acclaim and ever growing demand stem from its uncompromising quality, variety of flavors, responsive customer service, and competitive pricing. Strict standards and processing specifications for Brix, fruit pectin, and pH produce "a puree that doesn't taste like it is stretched or contains additives…The Perfect Purée captures the fresh flavor of the real fruit," raves Executive Chef Fred Mensinga of the Anaheim Hilton in California.
The succulent, single-note flavors inspire everything from muffins to marinades, salad dressings to sauces, cakes to cookies, canapés to cocktails, and sorbets to smoothies. The layered flavors of the blends are inspired by global cuisine trends and can be used for both kitchen and bar needs. We've even created delectable recipes that showcase our delicious products in appetizers, main dishes, accompaniments, salads, desserts, sweets and beverages that feature global influences like Asian, Latin, and Caribbean.
We continually look for new flavors and welcome suggestions. Some of our original flavors remain our most popular, such as Red Raspberry, Mango, and Strawberry. New favorites are Carmelized Pineapple and Thai Basil & Black Pepper. Culinary and beverage professionals can order our complete line through our network of specialty, produce, and general food service distributors in North America, including Canada and Mexico. (See order info in the Foodservice section of the website.)