Chef Michael Gottlieb, Executive Chef, Bistro Bordeaux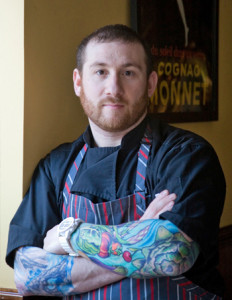 One of Michael Gottlieb's first memories in the kitchen is making meatballs from scratch with his uncle when he was about eight years old. The Food Network was making its mainstream debut at the time and Michael was fascinated by food and the art of cooking. He was naturally drawn to it and always knew that he wanted to be a chef.
His first job at age 14 was making pizzas at Italian Kitchen in Deerfield. Throughout high school, Michael worked part-time in a high-end hotel kitchen. After graduating, he enrolled at Le Cordon Bleu College of Culinary Arts in Chicago, continuing to work in restaurants like Gabriel's Restaurant in Highwood and Carlos' Restaurant in Highland Park. Michael served as sous chef at The Palm and as chef de cuisine at Bank Lane Bistro. Before joining Bistro Bordeaux as executive chef in early 2013, he helped open Second Street Bistro.
A few years ago, Michael traveled to a small fishing village in Alaska, where he experienced what it's like to catch fresh Copper River Salmon or Halibut, then return straight to the kitchen to create a dish. This has influenced the way he looks at food and always fresh and expertly prepared. At Bistro Bordeaux, Michael serves classic French bistro fare, including many seafood dishes like his trout served with a Meyer Lemon Thyme Beurre Blanc made with The Perfect Purée Meyer Lemon Concentrate.
Michael was introduced to The Perfect Purée line during his time at Bank Lane Bistro. He would use it to make sorbets with flavors like The Perfect Purée White Peach Puree in his White Peach Balsamic and The Perfect Purée Cherry Puree in his Cherry Fennel. He has continued to use the purees since and adds them to sauces, desserts, mostarda and mignonettes. He loves the consistency of the products and finds that they retain their flavors each time he uses them.
Michael uses The Perfect Purée Meyer Lemon Concentrate in the tangy Meyer Lemon Thyme Beurre Blanc and suggests serving it over a flaky white fish. He has also created a trio of mignonettes to serve atop oysters: The Perfect Purée Carmelized Pineapple Concentrate in the Carmelized Pineapple & Allspice Mignonette, The Perfect Purée White Peach Puree in the White Peach & White Pepper Mignonette and The Perfect Purée Blackberry Puree in the Blackberry & Black Pepper Mignonette.