Kat Valentina, Owner & Mixologist at Moverz N Shakers, Marin, California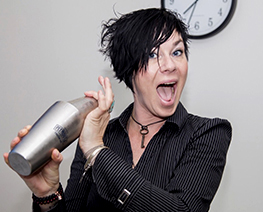 There's mixology, then there's medicinal mixology. More than a repudiation of over-sweet, artificial ingredients, it's an adherence to produce and herbs plucked fresh from the ground and mixed with pure spirits for a healing, rejuvenating cocktail.
Los Angeles-based mixologist Kat Valentina is so intrigued by the concept that she launched her own line of bitters and tinctures, Elemental Spirits. Kat grew up the daughter of a chef in a family that maintained a large year-round garden so she naturally gravitated towards fresh, seasonal ingredients when developing her style as a mixologist. She uses locally-sourced organic ingredients wherever possible and avoids adding sugar or water.
"All of my products are based in medicinal mixology," says Kat. "The herbs work together to create healing tonics as well as awesome cocktail seasonings."
A native of southern California, Kat developed her product line in the San Francisco Bay area. Through her mixology-based consulting and events company, Moverz N Shakers, she hosts custom cocktail parties and events as well as mixology and maceration (bitters) classes from "the Bay to L.A." She also offers home bar set-up services. In Kat's bitters classes, students learn the basics of cocktail culture and create their own jar of macerated bitters.
The Perfect Purée entered Kat's repertoire eight years ago when she was working at a bar in Santa Monica that used The Perfect Purée White Peach Puree in its Bellinis. Kat traded Prosecco for Amaros, craft gin and whiskey and played with pungent herbs like thyme, tarragon, dill and rosemary. She soon developed a strong allegiance to The Perfect Purée and lately began experimenting with the blends. She uses The Perfect Purée Thai Basil & Black Pepper blend to invigorate the blood and metabolism.
"I have really come to love the blends. I find them well-crafted and integrated," she says. "Basil is such a sensory experience, especially with a loud gin. I enjoy playing with the limits of what this combination can do."
Another preferred blend is The Perfect Purée Sweet Hibiscus blend, which she serves with rehydrated hibiscus flowers. Kat enjoys crafting cocktails from opposing flavors, which, she says, shock the palate alive.
"The look of perplexed enjoyment on imbibers' faces as they ask, 'What IS that?' is truly delightful," she says.
Kat's favorite venue is the intimate environment of small groups where she can intersperse some of her craft spirit knowledge with hands-on fun creating flavor combinations from local, seasonal produce. The results are unique pairings that give double meaning to the plant-spirit connection. Kat is confident that medicinal mixology has a bright future as people continue to seek cocktails with novel, curative ingredients for mind, body and spirit.
"My muse and source for developing artful culinary drinks is any local farmer's market or backyard garden," Kat says.
"Asking a newbie to the cocktail world, 'Which of these ingredients look intriguing to you?' as I wave my hand over 10-15 hand-picked bundles of earth is a blast. The eyes light up as creative possibilities, which were never seen as a drink before, suddenly become alive."