Kathleen Douglas, Owner and Executive Chef at Fresh Chef Experience in Louisville, Kentucky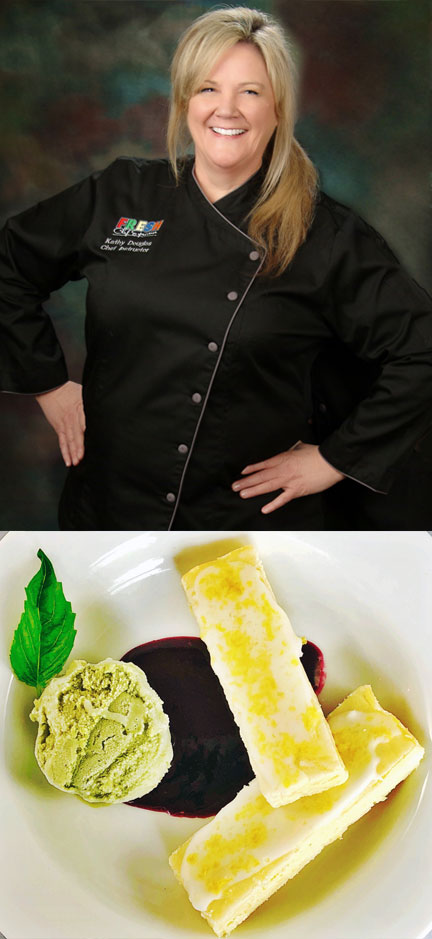 Imagine a team of chef instructors arriving at your home with everything needed to help you plan your next party. Fresh Chef Experience conducts private cooking party classes in and around Louisville, Kentucky. Home enthusiasts learn new cooking skills, explore world cuisines and impress friends with hors d'oeuvres, small plates and tapas for local favorite Kentucky Derby parties or any special occasion cocktail party.
Chef/Owner Kathy Douglas incorporates The Perfect Purée into a range of sauces, demonstrating how the addition of a single bold flavor dramatically changes a dish. A basic reduction of lemon juice, soy sauce and The Perfect Purée Carmelized Pineapple Concentrate comes together easily for a sautéed shrimp appetizer.
"Where the purées work really well is where people are afraid to try something really different," Kathy says. "It gives people a chance to try flavors they wouldn't normally try."
Basic meringue cookies with three ingredients (sugar, egg whites and cream of tartar) become party-worthy with the addition of The Perfect Purée Yuzu Luxe Sour blend. Kathy also uses The Perfect Purée to demonstrate flavor pairings. Serving basil gelato with a blueberry-lime sauce and iced lemon cookies creates an herbal-sweet balance and combines summer's best flavors in a single dessert.
After each session, Kathy directs customers to perfectpuree.com, where The Perfect Purée is available to home users.
"In the restaurant industry we have to get food done quickly and get it to taste delicious and purées are a faster way for anyone to do that," she says. "Everyone is looking for a better way to make food."
Fresh Chef Experience brings all food and equipment to a home, office or event space including a small oven and Bunsen burner if necessary. Classes require a minimum of six people and, for larger groups, operate on a ratio of no more than eight people per chef instructor so every participant has plenty of hands-on experience. Chefs guide customers through the techniques of each recipe, starting from scratch with raw ingredients. Kathy has a strong foundation in healthy eating and teaches cooking for local food banks and food literacy programs.
"When I teach people how to cook, I teach them to cook from raw," she says emphatically.