Kimberley Calvo, Owner, The Seasonal Palate, Albuquerque, New Mexico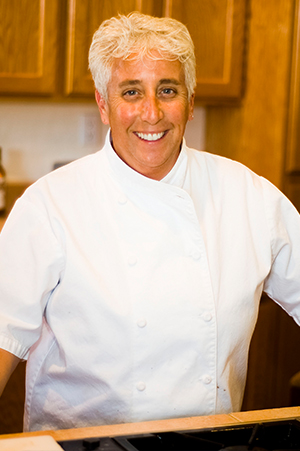 A Seattle native, Chef Kimberley Calvo spent weekends with her family visiting Pike Place Market, a culinary circus of overflowing farm stands, lively fishmongers and specialty foods. She helped her father smoke fish he caught and watched her grandmother make fresh egg noodles by hand. Now living in New Mexico, Kim has a full-service catering company with the motto "artful, simple, clean," much like the food that inspired her senses and her spirit when she was young.
The Seasonal Palate serves Santa Fe and Albuquerque with customized catering menus, supper clubs and personal chef services. Kim's menus feature local, seasonal, often organic ingredients and custom beverage pairings.
After graduating from the Seattle Culinary Institute in 1999, Kim spent years working as a chef in restaurants, catering, corporate dining facilities and private homes. From the beginning, though, she dreamt of opening a business to showcase her own standards and vision.
Kim started her business in New Mexico with a food truck before finding a location in Santa Fe and, in 2015, expanding into Albuquerque with a storefront café take-out menu. Her catering services continue to grow and emphasize signature New Mexican-grown produce like fresh figs, heirloom tomatoes, kumquats and asparagus.
Kim discovered the The Perfect Purée as a student when she used The Perfect Purée Prickly Pear Puree in a vinaigrette for a smoked trout salad and now uses the purees at catering events to distinguish her business from others in the area.
Kim loves that The Perfect Purée flavors are the perfect ingredient for dishes and beverages, sweet to savory. "I've used The Perfect Purée products for years and there is truly nothing like them on the market."
Kim says the purees add layers of flavors that are never "flat" to otherwise fresh and simple ingredients. She often uses The Perfect Purée Blood Orange Concentrate, one of her favorites, as a reduction sauce in seafood dishes, salad dressings and cocktails. "It offers a clean taste without being heavy, even as a reduction."
Kim enjoys experimenting with new flavors and uses the smoky citrus flavor of The Perfect Purée Chipotle Sour blend in a starter of shrimp prepared three ways with fresh arugula and crisp peppers.