Medhane Kidane, Co-President and CFO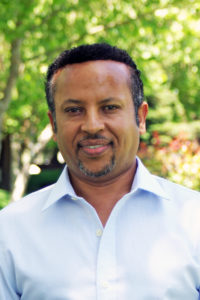 Co-President and CFO of The Perfect Purée of Napa Valley, Medhane Kidane is responsible for the strategic vision of the company and oversees all aspects of financial operations for The Perfect Purée. Medhane manages a team of finance and accounting professionals in preparing budgets and executive financial packages, working with external auditors, banks and other financial institutions and working with tax CPAs on all tax-related issues.
Medhane joined The Perfect Purée in 2013 as a finance and sales analyst, bringing with him more than 24 years of experience working in finance and accounting for various industries in his native Ethiopia, Italy and California. Prior to joining The Perfect Purée, Medhane spent 10 years in the wine industry, starting in 2003 as a credit analyst and staff accountant for the Sonoma wine and spirits company Freixenet USA. He then became a financial analyst and senior commercial analyst at Fetzer Winery and Fetzer Vineyards.
Medhane moved to California from Italy, where he spent three years in Rome and Milan as a senior accountant in the hotel, travel and entertainment industries.
Born in northern Ethiopia, Medhane moved to Italy as an adult when the war between Eritrea and Ethiopia broke out. Medhane is one of 11 children, with five sisters and five brothers, and while his parents had no formal education, they believed strongly in educating their children. Growing up, Medhane attended school and worked part-time at his family's small business. He learned to handle money and discovered an affinity for math, which led him to pursue economics as career.
Medhane earned an Associate of Arts degree in Accounting from Addis Ababa Commercial College and a Bachelor's Degree in Economics from Addis Ababa University. In California, he earned a Master's Degree in Finance and Administration from Sonoma State University as well as a Graduate Certificate in Accounting.
After graduating from college in Ethiopia, Medhane spent four years as an economist at the Ethiopian Ministry of Industry & Commerce in Addis Ababa. Medhane also worked four years as a Senior Accounting Manager and Controller for the International Committee of the Red Cross in Addis Ababa, starting in 1994. His main area of focus was managing projects that provided clean running water and sanitation to remote villages across Eastern Africa including Ethiopia, Kenya, Eritrea and parts of Sudan. Medhane also worked on HIV/AIDS prevention and awareness related projects.
Medhane says his breadth of experience gives him a unique understanding of the critical need for developing financial metrics and executive reporting packages that can be used to assess results and make strategic future decisions.
Medhane volunteers as a mentor for underprivileged youth, tutoring them in math and computer literacy. He also provides free tax preparation for low-income families in immigrant communities. Because of his love of teaching, Medhane hopes his retirement years include teaching in remote parts of Africa, focusing particularly on young women, who are disproportionately discriminated against and deprived of any formal education.
Medhane lives with his wife and two daughters. His hobbies include traveling, reading good books, swimming and wine tasting.