Gino Catenacci, Owner, Gino's Vino Wood Fire Osteria, Austin, Texas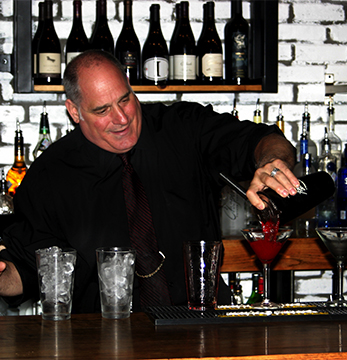 When Gino Catenacci turned 12 in 1966, he started bussing tables at his Uncle Marco's Italian restaurant near Detroit. Six years later on his 18th birthday, he started tending bar and since then has worked at restaurants and resorts in 10 cities and six states, among them The Breakers Palm Beach, the Boca Hotel and Lawry's The Prime Rib in Beverly Hills. Along the way, he also earned a scholarship to study history, poetry and economics at Oxford University.
Now, he's pouring all those years of experience into opening Gino's Vino Wood Fire Osteria in Austin. A reincarnation of the original Gino's Vino in Dallas, the Osteria combines Gino's oenophilia (many a Texan has attended his wine dinners), his passion for authentic Italian food and his enthusiasm for original handcrafted cocktails.
The Perfect Purée is featured prominently in those cocktails, including Gino's famous Sparkling Blood Orange Martini, which bubbled to the top of 300 entries to win first place at the 2012 Dallas Restaurant Week cocktail competition. That version featured dry ice for visual effect at the competition, and never fails to make an impression when it's served that way. The Perfect Purée Blood Orange Concentrate enhances the presentation, Gino says. "Although the purees are a little expensive, you don't use that much and the colors make the drinks look phenomenal," he says.
The Perfect Purée Blood Orange Concentrate, Pomegranate Concentrate, Cherry Puree and Ginger Puree are his current favorites but he says he can create a drink for every flavor. Gino started developing drinks with The Perfect Purée at Bailey's Prime Plus in Dallas (now closed), where the kitchen staff used the purees in salad dressings. From there, Gino took his drink recipes to Crudo Wood Fired Taverna in Frisco, where he put the bar on the map with his creative mixology and earned consistently enthusiastic reviews.
As often happens in the restaurant business, doors open for hard-working, charismatic people, and while employed as the dining and events manager at the Gentle Creek Country Club outside Dallas, Gino was offered space in the new Austin Marriott by one of the club's members involved in building the hotel.
Since closing the original Gino's Vino in 2007 (due to a change of building ownership), Gino met his wife, Li Ping, in China and had a son, "Little Gino," who turned 6 in 2015. He says his cocktail menu at the new Gino's Vino is inspired by his love for Li Ping.