Harry Chin / Mixologist, Fête Restaurant, Honolulu, Hawaii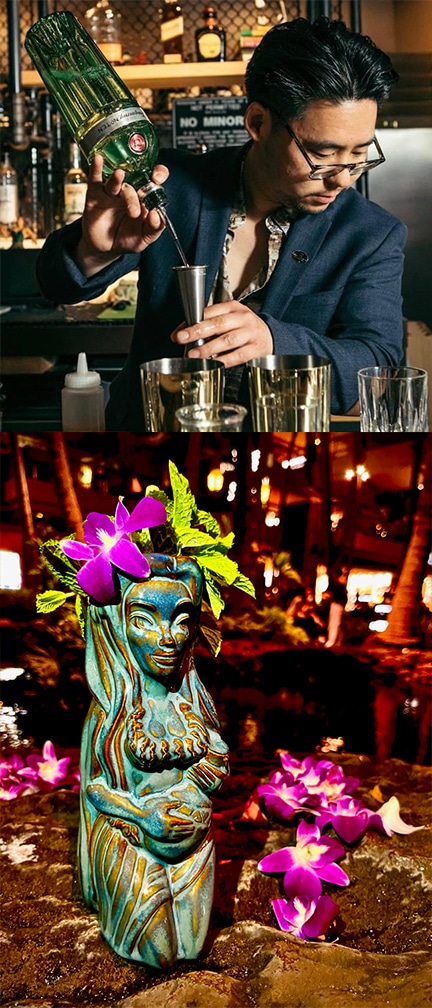 Rum is having its day in the sun and Honolulu bartender Harry Chin is working hard to make sure it stays there. Harry's signature POG Cutter is an artful play on the classic tiki drink created by Victor Bergeron, the founder of California's Polynesian-themed restaurant chain Trader Vic's.
Harry's version combines the flavors of one of Hawaii's most popular beverages—Passion Orange Guava—with the vintage Pacific island-inspired Fog Cutter. His base rum of choice is KōHana, a Hawaiian heirloom agricole rum made from fresh sugar cane juice. Other brands of fresh cane rums, cachaças or rhum agricoles work equally well.
Harry's POG Cutter follows Trader's Vic's recipe with rum, brandy, gin and orgeat then swaps citrus for the tropical flavors of Pink Guava and Passion Fruit and adds the requisite splash of sherry.
Before moving to Hawaii, Harry spent the majority of his food and beverage career in Los Angeles, most notably as bar director at Here's Looking at You Restaurant in Koreatown where he still serves as a consultant. Now, even in Hawaii where he works at Honolulu's Fête Restaurant, he relies on The Perfect Purée for the flavor of just-picked tropical fruit. His most recent menu in Los Angeles and many of his past menus have featured The Perfect Purée in exciting and unique ways. "It's consistent and tastes fresh, and those are two things that matter to me the most. Especially when making tiki-inspired drinks," he says.