H. Joseph Ehrmann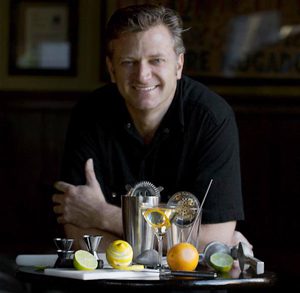 H. Joseph Ehrmann, better known as H., started his career in 1986 as a cook on the beaches of New Jersey, under New Orleans' renowned chef Duke Locicero. He went on to cook, serve, manage and bartend in Boston, Orlando, Washington DC, Vail and Phoenix before completing an MBA in International Management from Thunderbird (where he also bartended). That degree landed him in Geneva, Prague and Madrid where he spent several years traveling and studying the flavors, agriculture and traditions (as well as the distilleries, wineries and breweries) of Europe. After the completion of his MBA, he worked in several countries, industries and positions, building small and medium-sized companies as both an employee and consultant.
In January 2003, he left the corporate consulting world to return to his passion, the bar business. By November he had restored one of the oldest saloons in San Francisco and reopened it as Elixir. Since the heyday of the Barbary Coast years, San Franciscans have been whetting their whistles on the corner of 16th and Guerrero under several owners, and under his proprietorship, they're doing it with some of the finest beverages in contemporary California. The bar has won numerous accolades for its cocktails, marketing programs, and atmosphere. In 2005, Elixir was the first bar in the country to achieve a Green Business certification, which carries into his cocktail catering business.  Via his consultancy and entertainment company, Cocktail Ambassadors, H. trains professionals and consumers alike in spirits, mixology, sales and entertaining.
In 2009, he launched HMS Cocktails with Scott Beattie and Marco Dionysos as a unique, luxury level of service in addition to Elixir Cocktail Catering. His "San Francisco Style" focuses mainly on utilizing fresh, local and organic ingredients to create produce-driven culinary cocktails that respect the classics and inspire experimentation.
H. is the Brand Ambassador for Square One Organic Spirits and an advisor to several other product, hotel, bar, restaurant and event clients. Beyond his recognition as Nightclub and Bar Magazine's 2010 Bartender of the Year and a 2009 Cheers Magazine Rising Star Award, Elixir is in GQ Magazine's "20 Best Cocktails in America", Esquire's "Best Bars in America" and Food and Wine's "Top 100 Bars in America".
Recipes